By Mike Axisa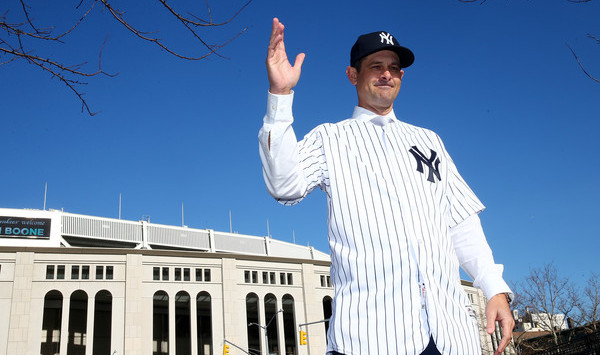 (Mike Stobe/Getty)
The Yankees officially introduced Aaron Boone as their new manager earlier today — that still sounds weird as hell — and if you missed the press conference, you can watch it here. Now that Boone has been hired, the next step is building his coaching staff. Brian Cashman said today that process could take "a couple of weeks." Here's the latest.
Boone's contract worth $4M
According to Joel Sherman, Boone's contract will pay him $4M across the three guaranteed years before the club option for 2021 comes into play. Other rookie managers hired this offseason, like Mickey Callaway (Mets) and Dave Martinez (Nationals), all received between $2M and $3M on their three-year contracts. Boone received a little more because he was leaving a lucrative deal with ESPN.
Joe Girardi earned $4M per year on the contract he just completed, so the Yankees are saving quite a bit of cash with their managerial choice. I'm sure the cynics out there will say that is Hal Steinbrenner's reason for making the managerial change, but nah. That's just the way it goes when you bring in new managers. The new guy almost always makes less than the old guy.
Experience not necessary for bench coach
Interestingly enough, both Cashman and Boone said today they're not prioritizing experience with their bench coach. They'd like a bench coach with managerial experience, sure, but they want a good baseball mind and hard worker above all. "Experience is important, but it's not the be all, end all. I want smart sitting next to me. I want confident sitting next to me," said Boone today.
Boone is a complete rookie and he knows it — "As far as the in-game stuff, there's obviously going to be some stuff that I'm green at," he said today …read more
Source:: RiverAveBlues